ACLU-KY of Brandeis Membership Interest Meeting
Posted March 20th, 2013 by Anonymous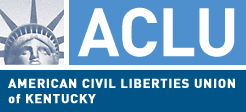 Will You Fight for Your Rights?
The ACLU-KY Chapter of the Brandeis School of Law is holding a membership interest meeting on Thursday, March 28th at 12:00 p.m. until 1:00 p.m. in room 175 of the law school. The meeting is open to all those who are curious. Membership is available for all University of Louisville students and faculty.
We will discuss what we hope to achieve as a Recognized Student Organization and as an official affiliate chapter of the ACLU of Kentucky. Additionally, we will provide information regarding invitation to the ACLU of Kentucky's Bill of Rights Dinner. The keynote speaker is James Esseks, Attorney of Record in the ACLU case before the U.S. Supreme Court challenging the Defense of Marriage Act, so it ought to be interesting and a great opportunity to network. 
In the interim, if you would like to hear from ACLU attorneys themselves, join us on Monday, March 25th for Career Week hosted by the SBA where you will have the opportunity to indulge in career advice from practitioners directly and indirectly involved with the ACLU-KY. Speakers include: Bill Sharp, ACLU-KY Staff Attorney; Mitchel Denham, Assistant Deputy Attorney General - Criminal; and Amy Cubbage, McBrayer, McGinnis, Leslie & Kirkland -- Of Counsel in the Supreme Court case Parents Involved in Community Schools v. Seattle School District No. 1 (2007)
For more information visit our website by clicking here or contact Kevin Coleman at kjcole01@louisville.edu.