ACLU-KY of Brandeis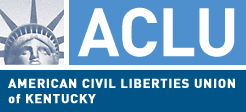 Mission Statement 
The ACLU-KY Chapter of Brandeis School of Law is a civil libertarian organization that is committed to the discussion and the protection of civil liberties and rights found in the Constitution of the United States and the Constitution of Kentucky. Located at the University of Louisville, the organization is open to undergraduate, graduate, and professional students that attend UofL. 
The ACLU works daily in courts, legislatures and communities to defend and preserve the individual rights and liberties guaranteed to every person in this country by the Constitution and laws of the United States. Our job is to conserve America's original civic values - the Constitution and the Bill of Rights. The law school chapter focuses on issues related to the campus and often brings in speakers to better educate students and faculty. 
For any student that wishes to get involved with the ACLU-KY of Brandeis, he or she may come to any of our events and learn more about pertinent issues involving our civil liberties in a real, tangible context. Our primary function is to encourage the open debate of how our constitutional rights can come under attack and the steps we can take to protect them. Ongoing relations with ACLU lawyers in the area often provide a wide array of both volunteering and networking opportunities. Additionally, if any student feels that there is a current civil liberty issue worthy of attention, he may contact any of the ACLU-KY of Brandeis officers and we will be happy to coordinate efforts to bring the issue to the foreground of public debate and take affirmative action wherever there is a considerable student interest. 
In a purely social context, all events organized by ACLU-KY of Brandeis encourage the participation of any student who enjoys having a good time and getting to know fellow law students outside of class.  
Contact Information
Aaron Riggs, President - aaron.p.riggs@gmail.com  
Kevin Coleman, Officer Emeritus - kj.cole04@gmail.com
Prof. Trucios-Haynes, Faculty Advisor - eftruc01@louisville.edu
ACLU-KY of Brandeis OrgSync Page
ACLU-KY of Brandeis Facebook Page 
See also ACLU's national webpage (www.aclu.org) and ACLU-KY's webpage (www.aclu-ky.org) for additional details.